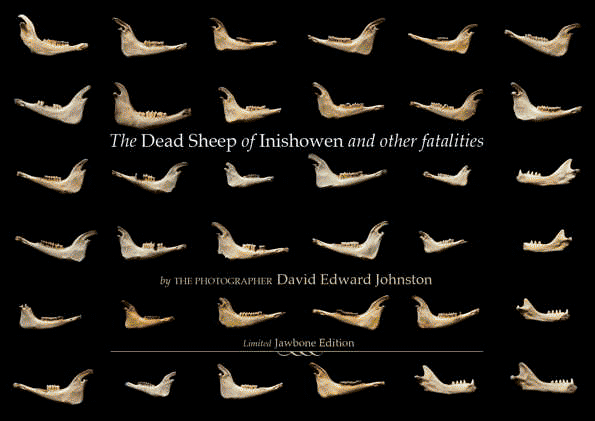 Recorded at Irish Coastal Locations of Great Scenic Beauty
by The Photographer David Edward Johnston.
This photographic monograph collates evidence of the eternal, feral
subsistence of life outside our comfortable, civilized zones; and pays
tribute to the land itself, relentless in its hardship, ferocious in its
aesthetic charm, beyond the picturesque.
The JAWBONE EDITION is a signed and numbered edition of 50 (UK £150.00 + p&p).
Each hand finished box contains unique organic materials found on the Inishowen peninsula.*
Available only via this website. To order via Paypal, email



Box made from recycled materials.
*Organic objects vary in size and condition and have been
hygienically washed but are otherwise presented as found.
Also available -
'The Dead Sheep of Inishowen
and other fatalities' standard edition